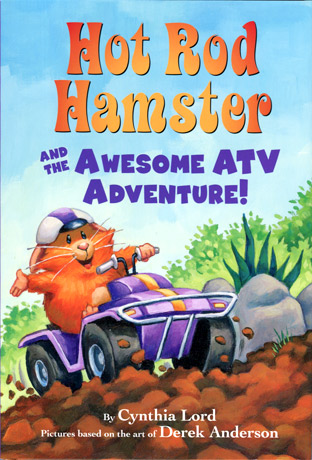 Hot Rod Hamster and the Awesome ATV Adventure
Cynthia Lord
Pictures based on the art of Derek Anderson
Scholastic Press
Ages 4 to 8
Available at your local bookstore or
IndieBound Amazon B&N
Also available in ebook formats including Kindle, Nook, Kobo, iBook, and Google Play.
Hot Rod Hamster and the Awesome ATV Adventure
Three-wheeler. Four-wheeler.
Track wheeler. More wheeler.
Which would you choose?
Hot Rod Hamster is looking for adventure!
Hamster and his friends go looking for an awesome adventure at Al's ATV Park. But Hamster needs YOUR help to make it the perfect ride, full of bumps, jumps, and down-and-dirty fun!
After roaring up hills, rolling over rocks, and splashing through mud puddles, the group halts at the sound of one word: "Help!" A family out for a picnic has gotten their ATV stuck in the mud! So Hamster and his friends stage a down-and-dirty rescue, proving that great adventure--and great new friends--come in all sizes!
Newbery Honor-winning author Cynthia Lord and New York Times bestselling illustrator Derek Anderson's beloved characters return. With the same bouncing rhythms, fun choices, and daredevil antics that make the acclaimed picture books sparkle, these Level 2 readers will be a sturdy stepping-stone for Hot Rod Hamster fans and series newcomers alike as they move on to independent reading.
"Highly recommended for fans of the series, and a must-purchase for libraries and classrooms serving new readers." Jen Robinson's Book Page
" . . . bright and engaging . . . A funny and lighthearted read with a positive message about helping out and sharing." School Library Journal